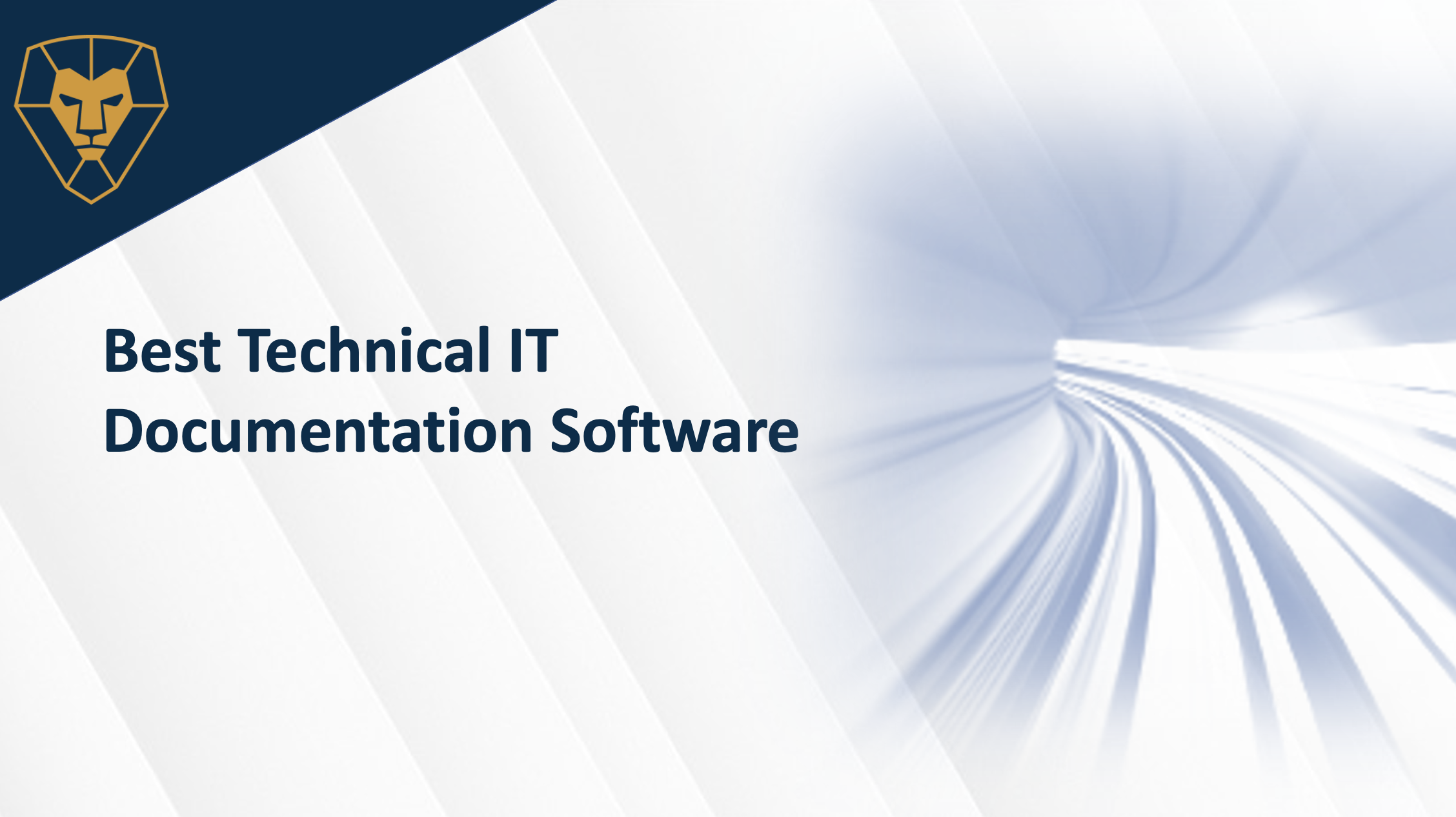 IT documentation is essential for businesses of all sizes to maintain an organized and structured IT system. With the increasing complexity of technology, companies need reliable software to document their systems properly. In this article, we will look into the role of documentation software, what makes good software, trends in the industry, and other related information.
The Power of Technical IT Documentation Software
Adequate technical documentation is a crucial aspect of any IT company or organization. It can be a significant challenge for companies to accurately document the technical details of their products or services while ensuring their customers can access the information provided. Therefore, documentation software has become more prominent in recent years. With various software development, IT companies can create, manage, and publish technical documentation more efficiently than ever.
What is IT Document Management Software?
IT document management software refers to technology that helps businesses and organizations organize, store, and manage digital and physical documents, data, and information about the IT infrastructure. This software helps track software licenses, hardware versions, configurations, and other critical technical documentation. IT document management software streamlines processes and ensures data accuracy while reducing the risk of errors, data breaches, and cybersecurity threats.
The software centralizes all important data in one place, allowing IT teams to search, retrieve, and share information effortlessly. Regardless of the file format, everything required for IT operations can be accessed in one place. The software is also known as IT documentation, asset management, and knowledge management software.
IT document management software is essential for any organization that takes its IT operations seriously. IT teams can use the software to document servers, networks, switches, applications, and other tools they manage. The software provides a structured way to keep track of configuration changes or updates, hardware and software inventory, network topology, and other IT documentation items that could easily become overwhelming, especially with big companies or complex IT infrastructures.
The main goal is to enable IT teams to operate at peak efficiency. By eliminating the dependency on tribal knowledge or informal communication within the IT department, the software increases transparency and eliminates silos. This ensures that each team member is up to speed with their tasks and responsibilities, fostering collaboration and reducing downtime.
Trends of IT Documentation Software
Significant changes and improvements to the software have allowed IT companies to increase efficiency and decrease documentation-related expenses.
In the past, creating IT documentation was a time-consuming and often labor-intensive task. However, with the rise of new automation tools, IT professionals can now automate the entire documentation process. Automated documentation tools automatically scan IT infrastructures, networks, and applications, and create detailed and accurate documentation. These tools reduce errors, improve efficiency, and save time, thereby enabling IT professionals to focus on more critical tasks.
Virtual Documentation
Virtual documentation is another trend in IT documentation that is gaining popularity. With virtual documentation, IT professionals can create comprehensive and interactive documentation that is accessible from anywhere. This documentation can include guided tours of IT environments, detailed instructions, and 3D models of infrastructure. Virtual documentation is an excellent way to improve engagement and user experience, enabling end-users to troubleshoot problems quickly and understand complex IT systems better.
Collaborative Documentation
In today's world, IT projects are rarely completed by a single person or team. Multiple teams and stakeholders are involved in each project, and as such, collaboration is essential. Collaborative documentation tools allow IT professionals to work together in real-time, ensuring that everyone involved is up to date with the latest changes. Tools like Google Docs and Office 365 allow for the creation of collaborative documentation with ease, reducing miscommunication and ensuring that all stakeholders are on the same page.
AI-Assisted Documentation
Artificial intelligence has revolutionized the IT industry in recent years, and it is starting to play a significant role in IT documentation. AI-powered documentation tools can extract data from IT systems and generate detailed documentation automatically. These tools use machine learning algorithms to learn from previous documentation, improving accuracy and reducing errors. AI-assisted documentation is an emerging trend in IT documentation that promises to save time, reduce errors, and improve efficiency.
Cloud-Based Documentation
Cloud-based documentation is another significant trend in IT documentation. With cloud-based documentation, IT professionals can access documentation from anywhere, on any device, provided they have an internet connection. This type of documentation is hosted in the cloud, reducing the need for on-premise storage. Cloud-based documentation is also more secure than traditional on-premise documentation, as most cloud providers have robust security features. Cloud-based documentation is an excellent way to improve collaboration, reduce costs, and ensure that documentation is accessible from anywhere.
What Makes The Best IT Documentation Software?
Many different types of software are available on the market, and knowing the best option for your business can be challenging. Here are some key factors that make up the best:
User-Friendly Interface: The best software should have an intuitive interface that is easy to navigate, even for those who are not tech-savvy.

Automation capabilities: It should be able to automate as many aspects of documentation as possible. This includes automatically syncing with your network and hardware to chart all changes, configurations, and updates.

Flexible Access: Your IT team should have access to the documentation via the cloud, mobile devices, and dedicated software. Real-time access and edit capabilities are must-haves.

Customizability: The best software should be customizable, so you can mold it to meet your business's requirements, including compliance and security.

Robust Search Functionality: A robust search function can significantly decrease staff downtime by creating one centralized source of data that is easily searchable by a simple "keyword" search command, making quickly finding relevant information possible.

Integration Capabilities: For the software to be effective, it should have the ability to integrate with your other software solutions, such as project management and ticketing software, making it easier to track and report progress.
What Are The Benefits of IT Documentation Software?
Efficiency and Productivity: IT documentation software can automate tedious manual tasks, reducing the time and effort required to maintain accurate records of IT systems, configurations, and assets. IT staff can easily access the information they need to perform routine tasks, such as updating configurations or troubleshooting errors, without having to spend a lot of time searching for relevant documents. This can increase efficiency, productivity, and accuracy in the IT department.

Better Communication and Collaboration: IT documentation software provides a centralized repository for all IT-related information, accessible by all team members. This makes it easy for IT staff to share information, collaborate on projects, and stay in sync with what their colleagues are working on. Effective communication and collaboration boost team morale and lead to better quality work completed in less time.

Enhanced Security: IT documentation software tracks all changes made to a system, including who made them, when they were made, and why they were made. With this information, IT staff can quickly detect and rectify unauthorized changes to the system. IT documentation software provides a detailed audit trail, which helps with compliance and regulatory requirements. This improves the security of the IT infrastructure, minimizing the risk of data breaches and system failures.

Reduced Risk and Costs: IT documentation software helps IT staff identify potential risks beforehand, allowing them to take preventive measures before an issue leads to a significant loss of time, money, or reputation. For example, a software bug that goes undetected can cause a system breakdown that may affect business productivity and profitability. By proactively documenting IT systems, service disruptions are minimized, and the need for expensive and time-consuming disaster recovery is reduced.
Learn More with Liongard
When managing a business, automation can be a real lifesaver. That's where Liongard comes in – an automation platform that consolidates your data into a single source of truth. Many businesses have already taken advantage of the time-saving benefits of Liongard, allowing them to focus on growing their business rather than dealing with tedious paperwork.
With Liongard, you can automate repetitive tasks that were previously manual, like tracking software, hardware, and licenses. This automation saves you hours of manual work, freeing up time to focus on the core functions of your business.
Another benefit of using Liongard is that it provides a centralized data repository. This allows you to see real-time insights into your business, including the status of your software, hardware, and support licenses. You can also eliminate the need for multiple tools and platforms, as Liongard can replace them all.
The best part? Liongard is incredibly easy to use. It's a turnkey product that doesn't require any complex setup or installation, and it comes with a user-friendly dashboard that anyone can understand.
Training and Demos
Attending their training and demos is the best way to get the most out of Liongard. These are designed to help you understand the platform better, teach you how to use it more efficiently, and show you how it can benefit your business.
One of the most popular training is the Liongard Master Course, which covers everything from basic setup to advanced automation techniques. It's a comprehensive course that takes you through the Liongard platform step-by-step.
Another popular resource is the Liongard Demo. This is a great way to see the platform and understand how it works. The demo covers everything from the user interface to advanced automation features, giving you an excellent overview of what Liongard can do.
The best part of these training and demos is that they're available online so you can learn at your own pace and from anywhere in the world. If you have any questions or need additional support, Liongard's customer success team can assist you.'
Common IT Documentation Software FAQs
How do I evaluate the documentation software's security features?
One of the most important features of documentation software is its security measures. Look for software that allows you to set role-based permissions and encrypts data in transit and at rest. You should also identify the software's accountability and tracking features, the data backup and recovery process and testing, and compliance with regulatory requirements such as GDPR, HIPAA, or PCI DSS.
Is it a must to keep a comprehensive log of all changes in the documentation?
It is vital. By maintaining a comprehensive, ongoing log of all changes and alterations made in the documentation, IT teams can significantly reduce staff downtime incurred by having to track down past versions, which can prove invaluable during audits and reviews.
Can I tailor the documentation software to my business requirements?
Yes, most platforms provide configurable features enabling customization to meet specific business requirements, including integration with other software solutions, merging with ticketing and project management systems, etc.