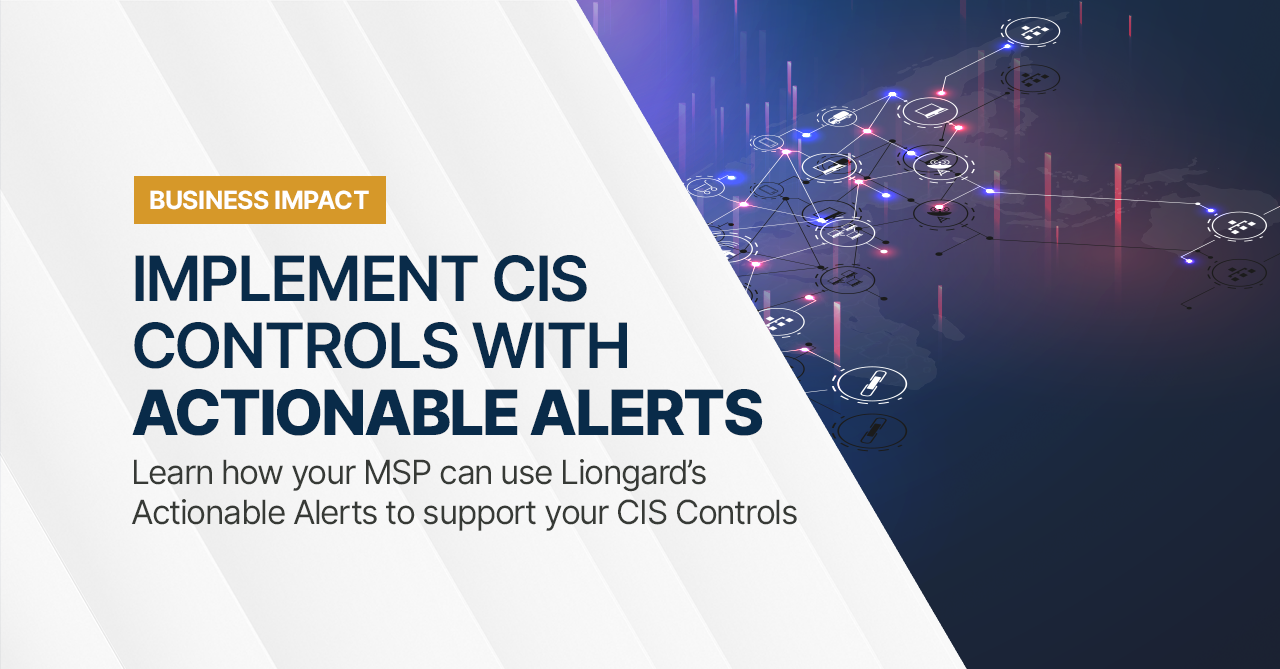 LEARN HOW YOUR MSP CAN USE LIONGARD'S ACTIONABLE ALERTS TO IMPLEMENT CIS CONTROLS.
As cybersecurity remains a core concern for MSPs, it can be daunting to stay on top of the many issues and best practices out there. Fortunately, organizations like the Center for Internet Security (CIS) have put together simplified guidelines to help you protect your business and clients against cyber threats. The CIS team of global experts developed 18 Critical Security Controls with prescriptive actions you can take to mitigate risk. Let's dive in to see how Liongard can help your team support these CIS Controls.
 The Connection between Liongard and CIS Controls
Liongard provides MSPs with fresh, automated system data, which allows you to monitor customer environments for critical changes and receive alerts when something needs your attention. Liongard's alerts span critical systems like Office 365, Active Directory, SQL Servers, firewalls, endpoints, and more—and they help support specific CIS Controls.
We've gone through our library of alert rules and matched each one to the corresponding CIS Control it supports. In some cases, our alerts overlap to support more than one CIS Control, so we've mapped them to the most relevant control in each case.
How to Use Liongard to Implement CIS Controls
Access and download the list of Liongard Actionable Alerts and the CIS Controls they support here.
For your convenience, the information can be sorted by System Inspector, general purpose, or the CIS Control number. The second sheet also includes all of the CIS Controls and reference material. 
From there, it's easy to set up alerts in Liongard to monitor these CIS Controls:
Step 1: 

Select relevant alert rules for your MSP and/or customers (Use our library of alerts or customize your own.)

Step 2: 

Turn the rules on in a Template and decide which Environments to apply it to. It's easy to start with a controlled test using a few rules and one customer Environment.

Step 3: 

When an alert rule's threshold is met, an automated alert will be delivered to your destination of choice (Roar, PSA, and/or email), where your team can take the necessary action.
For more help on any of this, you can register for one of our free monthly Liongard Learning Q&A webinars.
Additionally, know that you can also run reports on Liongard data to audit the systems you are managing. For certain tasks like auditing firmware versions of firewalls, it may be easier to run a report in Liongard and create project work to get started. 
Examples of Liongard Rules that Support CIS Controls
The following are just a few examples of Liongard alert rules that MSPs have found useful in supporting specific CIS Controls:
You can view the full set of CIS Control-aligned Actionable Alerts here.
CIS Control #1: Inventory and Control of Enterprise Assets
Approximately 40 Actionable Alerts support this control, including:
Active Directory Servers or Workstations at or near End of Support

Windows Workstation Drives with Less Than 15% Freespace

Devices Added/Removed from a Network
CIS Control #2: Inventory and Control of Software Assets
Approximately 50 Actionable Alerts support this control, including:
AWS Change to Buckets List or Volume List

M365 Unassigned Licenses

TLS/SSL (Auto-Renewing) Certificate Expiration

Windows Server and Windows Workstation Upcoming Machine Warranty Expiration
CIS Control #4: Secure Configuration of Enterprise Assets and Software
Approximately 80 Actionable Alerts support this control, including:
Changes to Firewall Software Version

Changes to Firewall Configuration

Windows Server password Policy Modified

Windows Workstation Guest Account not Disabled
CIS Control #5: Account Management
Approximately 70 Actionable Alerts support this control, including:
Active Directory (Privileged) User with Stale Password

Google G Suite/Workspace (Privileged) Users Added/Removed/Modified

M365 Changes to Privileged/Active Mail/Enabled Users

Windows Server (Local Privileged) User Added/Deleted
CIS Control #6: Access Control Management
Approximately 55 Actionable Alerts support this control, including:
AWS Change to Security Groups or Roles List

Fortinet Fortigate Access Profiles or Groups Added/Removed Modified

M365 Exposure to Accounts with Weak Passwords
CIS Control #9: Email and Web Browser Protections
Approximately 15 Actionable Alerts support this control, including:
Internet Domain Changes to A/MX/NS/SPF Records

Internet Domain Email Forgery Exposures
CIS Control #10: Malware Defenses
Approximately 9 Actionable Alerts support this control, including:
Webroot Infected Device Detected

Windows Workstation Change to Antivirus List

Windows Workstation Windows Defender Threats

SentinelOne Systems with Active Threats
Liongard is rooted in security and transparency best practices to maximize peace of mind for our employees, our MSP partners and their customers. If you're interested in other security frameworks, we've also mapped how Liongard can help support NIST's Cybersecurity Framework and functions here.